Buy FIFA 20 Coins Cheap
MrGeek Guide To Safest Way to Buy and Transfer Coins
So what are the methods used to transfer coins?
Comfort Trade
FIFA Comfort Trade is the easiest, quickest and safest method of delivery for a customer to use. If you purchase FIFA FUT coins with Comfort Trading, you only need to supply your account login information (e-mail address, password, security answer and the 6 backup codes) your data will always be protected in line with General Data Protection Regulation (GDPR). The coin seller then logs onto your account with the details you have provided. You must not log into your account whilst comfort trade is taking place as this will delay the transfer. You do not have to put any cards for sale or do anything; that's the good thing about this method it takes zero effort from the buyer. The price of the comfort trade method also covers the Transfer Market's 5% tax fees, so you receive the actual amount of coins that you ordered. This is the safest coin transfer method that can be offered.

So you ready to Buy FIFA Coins with Zero Effort and Zero Risk then buy Cheap FIFA Coins here.
Player Auction
Player Auction Method is slightly more risky and tedious but works the same. You will make a purchase online for FIFA Coins then you will have to list a selection of players up for sale; for example, if you want 100k, you would need to add 10x players for Buy It Now Price of 10k. You will then be able to input all of your player's details prices as instructed and then the coin buyer will go along and buy the cards you have listed but using this method will mean you will have to pay the 5% EA Tax.
The Coin seller will then buy the item one by one, so it's very important you have given the correct card details to avoid any loss of coins.
We recommend cards that you list are Non-Rare and Rare cards from leagues below:
Premier League
Ligue 1
Serie A
Bundesliga
Liga Santander
This is because using players from the top 5 leagues and nations will reduce the risk of getting banned as EA knows that these players are needed in SBCs and therefore people sometimes purchase them for Maximum Buy it now price all the time and this will not flag up to EA.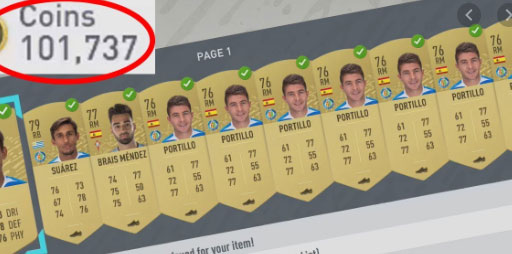 How Else Can You Avoid Getting Banned?
Buy your coins from a supplier who is know and trusted and has been around for many years as they will have the most experience with trading methods.
Once you had your coins delivered, spend this as quickly as possibly do not leave them in your account this will attract attention from EA.
If you choose to use player auction method, DO NOT start listing Bronze or Silver Cards for 10k as EA are not stupid. If you sell a bronze or silver player for 10k then you are going to look suspicious, even more if you are selling 20 or 30 Bronze or Silver Cards at once.
What Consoles does MrGeek Provide FIFA Coins for?
MrGeek Provides FIFA Coins for PS4, Xbox and PC using both Comfort Trade and also Player Auction Method any amount can be brought as we always have stock a few other benefits of buying with MrGeek are as follows.
A user friendly platform with a built in user center to aid the ease of use.
Very clear and vivid processes and procedures.
Our customer support is five stars and superb. With credible third parties proof. We are more than happy to assist and help you in any way and any process you may ask us.
Our friendly and welcoming customer care and support is ready for you 24 hours a day, 7 days a week and 365 days of the year.
A very fast and quick platform to do all your orders within seconds.
Leading platform worth over 12 years of highly valued industry experience.
Our platform is full of highly energetic and ambitious players.
We ourselves are highly energetic and creatively ambitious players.
A great platform built by players for players.
Our cash back system means you get what you pay for you will get the exact amount you payed for minus of course obligatory EA tax which is 5%.
Signing up with us will entitle you to loyalty discount
We are a website for GAMERS Run By GAMERS!

Our Prices vs. Others
Just to show you how much we like to keep up to date with our prices to give you the best price on the market we have a list below of how much 100k would cost from various different suppliers:
MMOGA - £11.41 Per 100k
U7BUY - £9.29 Per 100k
MrGeek - £8.95 Per 100k
IGVAULT - £11.66 Per 100k
And If that's not enough use Discount Code "mrgeekfut10" for 10% off ALL Orders